HISTORY OF HOWA
DECADES OF PRECISION & QUALITY
"We will continue to aim at becoming a globally recognized rifle taking advantage of skills and experiences which have been cultivated for more than 50 years."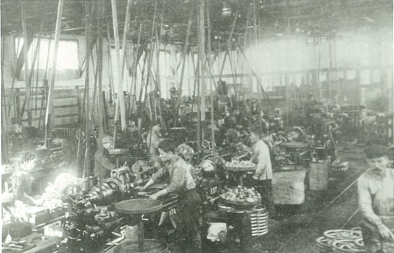 1907
Inside of Toyoda Loom Works Factory
Howa Machinery, Ltd. was established in February under the name of Toyoda Loom Works, Ltd. with the purpose of domestically mass-producing textile machines which were imported at that time.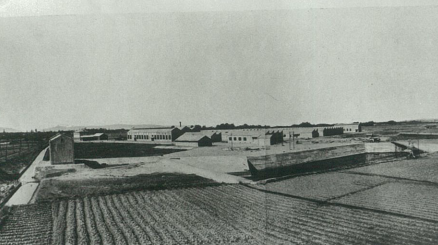 1907
Toyoda Loom Works, Ltd – established
1932
Toyoda Loom Works, Ltd accepted the initial order of weapons from the Japanese army arsenal in Nagoya and began manufacturing their first product, the hand grenade.
1936
Showa Heavy Industries, Ltd was established and started producing rifles, cannonballs, and parts for airplanes.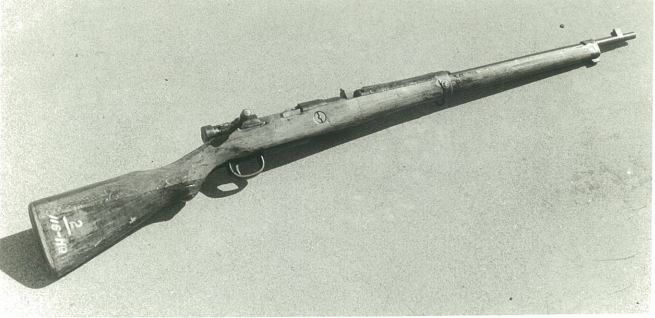 1941
The Arisaka Rifle
Toyoda Loom Works, Ltd merged with Showa Heavy Industries, Ltd and renamed Howa Heavy Industries, Ltd.
During WWII, Howa Heavy Industries, Ltd had been manufacturing Arisaka Rifles (Type 99), parts of infantry rifles (Type 38), artillery, machine guns, bullets and parts for airplanes.
1945
Renamed Howa Machinery, Ltd after WWII. Howa began manufacturing textile machinery.
1952
Initially, producing weapons was prohibited in accordance with Potsdam Orders. However, due to the outbreak of the Korean War, Potsdam Order was amended and resulted in the production of weapons.
Permission was obtained from the Japanese Government and orders were accepted for hand grenades (type MK2), 81mm mortars, and parts for airplane bombs from the U.S. Military procurement section.
1957
Howa began producing 12.7 mm spotting rifles for a 106 mm recoil-less gun.
1959
To further manufacturing of sporting arms, Howa entered the US hunting rifle market and obtained permission for manufacturing hunting rifles from the Governor of Aichi.
Japan's first tunnel type target shooting range was then built.

1960
Model 300
Howa produced the Model 300 carbine (semi-auto rifle). This was the first mass produced Japanese hunting rifle.
From its compact and light design the rifle was well-received by Japanese fans.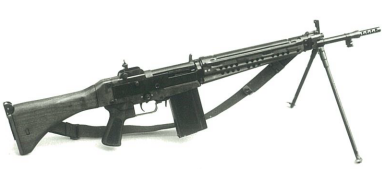 1964
Type 64 7.62mm Rifle
Since 1956, as a result of technology and development efforts, the type 64 rifle was adopted as official equipment by the Japan Defense Agency (currently Ministry of Defense).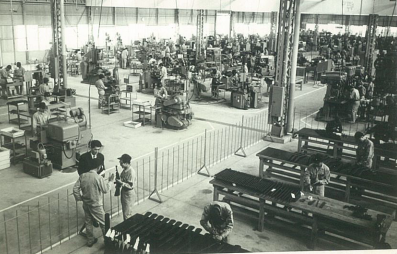 1965
Firearm Factory when newly completed
Howa established a state of the art firearm factory with ammunition storage and ancillary facilities such as heat and surface treatment.
1965
Thai Police adopted Model 300's improved version as official law enforcement equipment. 10,000 rifles were exported to Thailand until 1966.

1967
Golden Bear Rifle
Howa presented the Golden Bear Bolt Action Rifle at the Chicago Shot Show in 1967. Approximately 3,000 Golden Bear Rifles were exported to the US. After the introduction of the rifle, Howa gained notoriety in the US market.

1968
New Model 300
Improving the design of the Model 300 and development of a New Model 300 which was tougher and more practical.
1977
Howa began developing a new rifle using a 5.56 mm NATO's second rifle caliber.

1979
M1500
Howa exports the Model 1500 developed on the Golden Bear rifle platform.

1989
Type 89 Rifle
Development of new rifles that used 5.56 mm bullets was finally complete. Type 89 rifle was adopted as official equipment by the Jana Defense Agency (currently Ministry of Defense) in 1989.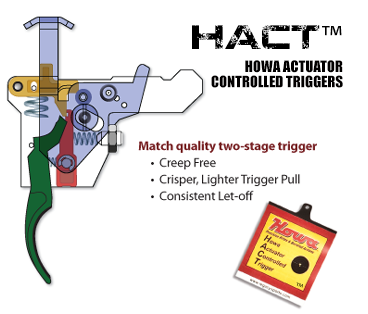 2011
H.A.C.T. (Howa Actuator Controlled Trigger)
A new type of trigger was introduced (trademark: H.A.C.T.) and achieved crisper, lighter trigger pull and creep free two-stage trigger.

2015
M1500 Mini Action
The development of the M1500 Mini Action maximizing bolt actions to small size calibers.
Howa Machinery, Ltd
Howa's firearms department began with manufacturing weapons and has been successful in both weapon and hunting rifles.
Our experience and accumulated engineering know-how has made it possible over the years to develop and manufacture firearms of superior quality that are guaranteed to completely satisfy our customers.
Howa Machinery Ltd. is dedicated to continuing innovation and design to remain the leader in precision rifles and barreled actions.